Our 2013 game Ossuary is currently on sale for $7.49 on Steam!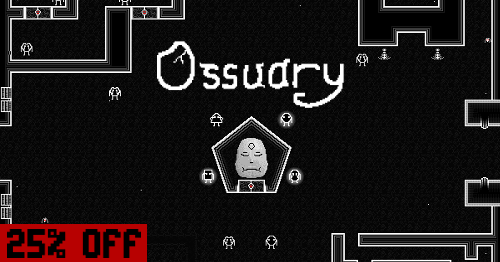 I wrote all of Ossuary and released it with my partner as the first project of Future Proof Games. It's a little game that's pixelly and funny and strange. You're a newcomer to a macabre philosophical underworld, and to escape you have to solve conversation-based puzzles and use sins as inventory items. I used it to explore a lot of Discordian concepts and perspectives, so in a sense it's a religious work for me.
It's weird looking back on Ossuary. I'm really proud of how it turned out, although it's never had real financial success. We've sold maybe a couple thousand copies. For now it's paying Future Proof's monthly expenses for servers and such, but it's certainly not making enough to provide us with paychecks. Each sale on Steam helps a bit, though, so if you haven't picked up the game, check it out! It's cheap! (And hey, if you know someone you think will like Ossuary, you can always get it for them as a gift!)
And a final request: if you have played Ossuary, please do leave a Steam review. Our 17 reviews are 94% positive, but Steam won't list them as "Very Positive" or "Overwhelmingly Positive" until we have enough of them. Anecdotal evidence strongly suggests that these categories make folks more likely to check out an otherwise-unknown game.
Thank you for reading!