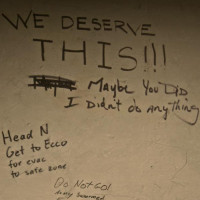 I've been playing a lot of Left 4 Dead lately. I got it in the recent weekend sale, and I can say with confidence that it's the best co-op experience I've ever had. It's got the typical Valve polish, it's fun and funny, and the experience of finding, playing, and reminiscing about a play session is a complete joy. There's an incredible amount to talk about here, from the way the setting is introduced through wall scrawlings to the way the game teaches you how to play. I'd love to see Richard Terrell do an article about the tactics and interplay of L4D. But I'm primarily a story guy, so I'm going to talk about the story.
Left 4 Dead is George Romero's Dawn of the Dead as told by Samuel Beckett.

Waiting for Godot is a play where nothing happens. Two much-abused innocents, Vladimir and Estragon, hang around a tree in the middle of a wasteland waiting for the titular Godot to somehow save them. Godot never comes. As they wait, Didi and Gogo discuss philosophy, suicide, and hunger, and are visited each day by a rich man named Pozzo and his slave Lucky. At the end of each of the two acts, a boy comes to announce that Godot will surely come tomorrow. It becomes clear that the pair have been waiting forever, and that the events of the play repeat eternally.
Left 4 Dead is a game where quite a bit happens. Four ragged "Survivors," Louis, Zoey, Bill, and Francis, battle their way through zombie-infested, decayed environments in an attempt to get to a place of rescue. As they travel, the Survivors encounter five Special Infected: strange mutations of the regular zombies dubbed the Boomer, the Smoker, the Hunter, the Tank, and the Witch. Each campaign ends with the Survivors being rescued, but each begins with no mention of a previous escape. One gets the feeling that these Survivors have been surviving for a long time, and will do so forever.
The Survivors show signs of a life before the pandemic. Louis was an IT professional, Zoey a college student, Bill a Vietnam vet, and Francis a biker. Their clothing is messy and their faces are dirty, implying that it's been a while since the rise of the infection. They've been fighting together for some time before the start of the campaign; the opening cutscene depicts their discovery of the Special Infected, and it's clear that they have formed a close group at that point. Bill and Francis have a friendly rivalry, and they all look out for each other.
An indeterminate period passes between this cutscene and the start of a campaign, long enough for the Survivors to nickname the Specials, recognize their distinctive sounds, and learn how to fight them. A Survivor calls out warnings when a Special is nearby, and will occasionally provide reminders to, say, turn off flashlights when the Witch is around. The survivors have become an efficient team; they've learned to announce when they reload, call out useful weapons, and help each other in times of vulnerability.
But there's no real hope for the Survivors. Each trip through a campaign is different, but it begins with them knee-deep in the undead, and ends with them escaping to an uncertain future. We never see the Survivors truly safe. Between chapters, they rest in Safe Rooms, but they can't hide there forever. Most unsettlingly, there are signs that the Survivors themselves remember doing all this before. Each of them is familiar with the territory, pointing out upcoming safehouses. During campaign intros, a Survivor will sometimes mention that they "heard" evacuations were happening at a location, but not who they heard it from.
Even death is no escape for a Survivor. A dead Survivor will appear at the next safehouse, but they will also find themselves trapped in "rescue closets," waiting to be discovered by the others. They seem to have memories of the others while trapped; for example, Zoey will sometimes call out, "Guys? Guys! I'm over here!" when in a closet.
Of course, many of these creepy details are motivated by gameplay requirements; permanent death would hardly be fun, and campaigns need to be played multiple times. However, other things also suggest this hopeless eternity. The "Death Toll" campaign includes graffiti saying "Exodus 9:15," a Bible verse describing divine punishment through pestilence, and contains a section where a church provides little refuge. "Dead Air" contains numerous spraypainted messages that "God Is Dead." No other uninfected humans are ever seen throughout the game; only their voices are heard over radios and through doors.
The Special Infected are unsettling, as well. The Boomer is bloated and overweight, evoking thoughts of decadence and indulgence. The Smoker is thin and clearly unwell, in keeping with its name. The hooded Hunter suggests various undesirables of uninfected culture, from the Unabomber to rebellious skaters. The Tank is an embodiment of artificial, steroidal muscle, and the Witch is defined by unrestrained emotion. These zombies are not alien; they suffer from maladies that are all-too-human, which is what makes them so disturbing. A case could be made that these are the incarnations of modern-day Deadly Sins, populating the Survivor's eternal hell.
Like in Waiting for Godot, the Survivors of Left 4 Dead are trapped in a never-ending cycle, figurative or literal, of constant struggle. There is no rest, and no hope of permanent salvation. However, like Didi and Gogo, the Survivors keep moving because of the only bright aspects of their existence: humor, friendship, and the hope of escape.